"The valley's premiere vocal jazz group" – AV Press
"JUST US 4" is a lively, entertaining, professional vocal group with beautiful 4-part harmonies. Our wide repertoire includes Jazz, Broadway and Swing, with a splash of Broadway and a sprinkling of pop classics. You can enjoy numbers by Duke Ellington, Glenn Miller, Fats Waller, Elvis, Frank Sinatra, Manhattan Transfer and so much more. We also have a fantastic, very popular Christmas/Holiday Show and a great Patriotic Show!
Thursday evenings, 6 p.m. on the Bandstand Stage, Ehrlich Avenue and The BLVD
Summertime simply would not be the same without the Summer Concert Series held on the Bandstand Stage on Thursday evenings! The Concert Series is held in conjunction with the BLVD Market. Come prepared for a great time by bringing your own lawn chairs and dancing shoes! Dine al fresco on the Don Sal Cocina & Cantina patio or at one of the many BLVD restaurants.
"JUST US 4" will be performing 11 August from 6 – 8:30pm.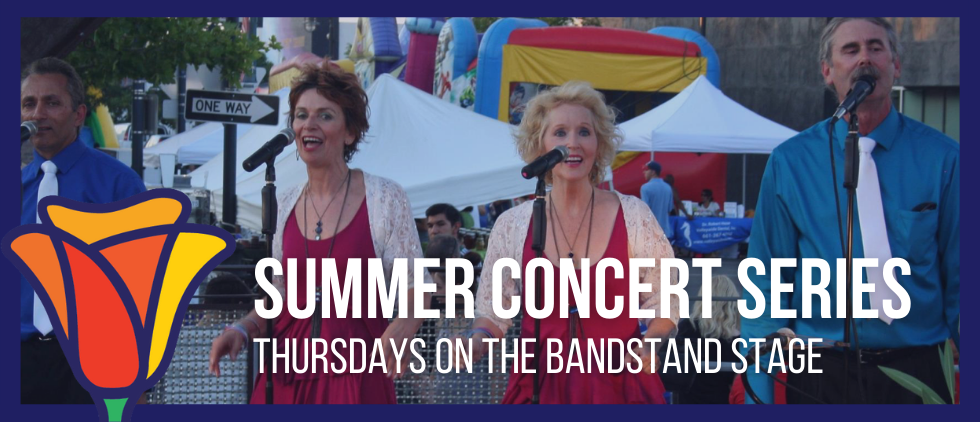 ALSO! Come and join us for a fun time at Zelda's –
great food, drinks and entertainment!!
"JUST US 4" performs all around the LA area: The Canyon, Terranea Resort, Trump Golf Club, Beverly Hills Food and Wine Festival, LA Convention Center, 94th Aero Squadron, South Bay Festival Of Arts, Hilton Checkers, Ginos, TPC Valencia, Terranea Resort, The Mayflower Club, The Rose with the Glenn Miller Orchestra, various wineries, festivals, City and Corporate Events, The Canyon Club with Big Bad Voodoo Daddy, LA Convention Center, to name a few. We're also available for private functions.
Each member of the group has an extensive background in entertainment, ranging from National tours for Columbia Artists, performing in theater productions, television, radio, recording, and also performing for the US troops in Europe, as well as other European venues.
Based in sunny Southern California, the group began as an idea of gathering together a few veteran singers/performers who wanted to create a unique experience for an audience to enjoy. They have succeeded in uniting their individual skills and artistry to blend into the magic that is "JUST US 4" – delighting those who appreciate good music, great fun and a touch of nostalgia!